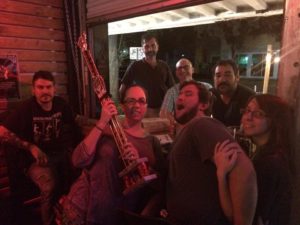 Whoa baby! What a week! As usual, Tuesday was C.A.N. night where we offer 25% off to industry members.
Wednesday, "Just John" and the Tampa Bay Dream Team gave us our weekly dose of trivia. "The Boob Chargers" took home the $20 in TapHouse 61 cash!
Every Wednesday from 7-9pm, teams battle for bragging rights and beer tabs. Join us this week for your chance to dominate!
---
Thursday, we had special guest Dr. Anna Lepeley discuss the benefits of drinking beer. With the release of her new book "Beer is Good for You," she made us all feel a little bit better about our drinking habits. You can order her book here.
---
On Friday, we had Navin Ave., Johnny Mile and the Kilometers, and King Complex! With an indie meets garage rock n' roll night, the TapHouse was officially shook.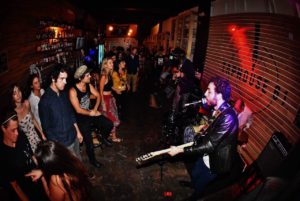 Navin Ave., fronted by Shae Krispinsky, kicked off the evening with dreamy vocals and electric guitar. Johnny Mile and the Kilometers livened things up with their danceable garage-rock tunes and gritty vocals from Gino Capone. After a string break, bassist Chris Cardon, kept the energy up and rocked with three.
King Complex opened for She Wants Revenge at State Theatre and rushed to set up and play after. Complete with black masks and three-piece suits, the boys brought ambient indie rock unlike TapHouse 61 has seen. Their trippy graphics match their synth-rock sound. For new fans, they worked in a pop cover from Justin Timberlake. Swoon.
Check out the latest single from King Complex:

---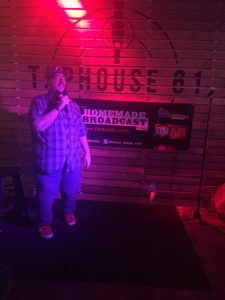 Saturday, Will Kuncz of the Homemade Broadcast brought back comedy for a special showcase featuring Tampa Bay favorites Johnny Bell, Jonas Presendieu, and Rachel Rowan.
For nearly 17 years, Johnny Bell has been entertaining comedy crowds around the country with a style that can be considered aggressive, logical, offensive, and level-headed all at the same time. It's easy to simply get on stage and say controversial things, but Johnny attacks absurd life experiences–especially his own– with a critical eye that finds humor from different angles. He's a dad, he's been divorced and he's dealt cards at the World Series of Poker twice, and all of those perspectives make for hilarious observations on stage that keeps crowds laughing.
---
This Week:
We're super stoked on our new seasonal beers on tap. 'Tis the season for pumpkin, spice, and everything nice! Sure to please basic bitches and tough guys, alike.

What We're Sippin' On:

2 Brothers Atom Smasher
Brewer's Notes:
Atom Smasher is our take on an Oktoberfest style lager, blending the traditional style of marzen beers from the past with new, innovative flavors. Named with our scientific neighbors in mind, Atom Smasher brings Oktoberfest state-side.
A hefty and complex grain bill brings about a variety of flavors including coffee, toffee and toast vanilla. Fermented with our house lager yeast and aged in oak chips, Atom Smasher boasts a unique spice which is balanced with soft vanilla.
Atom Smasher is a hefty, marzen style beer, with 7.7% ABV and 22.6 IBU.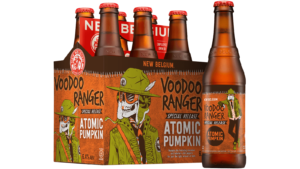 New Belgium Voodoo Ranger Atomic Pumpkin
Brewer's Notes:
Enough with the run-of-the-mill pumpkin beers. I'm not interested in an ale that takes cues from a frozen coffee drink, and neither are you. That's why I made Atomic Pumpkin. Does it really feature Habanero peppers? Yep! What about Saigon Cinnamon? Ding! I round it all out with a hearty malt bill that makes for a spicy brew that puts the "Fun" back in Pumpkin. (Spelling was never my strength). — Voodoo Ranger
With 6.4% ABV and 10 IBU, this ale has pumpkin at first sip with heat and spice in the back.

Southern Tier Warlock
Brewer's Notes:
Warlock is brewed to enchant your palate on its own & also to counterpoint our Imperial Ale, Pumking. Make your own black magic by carefully pouring this Imperial Stout into a goblet.
Dark and mysterious, reanimate your senses with Warlock's huge roasted malt character, moderate carbonation & a spiced pumpkin pie aroma.
This Imperial Stout, with 8.6% ABV and 40 IBU, is laced with coffee and dark chocolate. Smooth, velvety mouth-feel and finishes slightly sweeter than Southern Tier's Pumking.
---
Remeber to "like" us on Facebook to stay up-to-date on performances, promotions, and of course, beer!