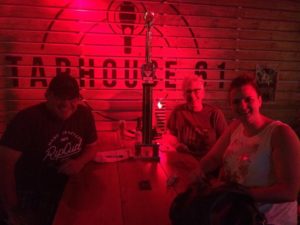 Wednesday, "Just John" and the Tampa Bay Dream Team gave us our weekly dose of trivia. "The Weekly Name Changers" took home the $20 in TapHouse 61 cash!
Every Wednesday from 7-9pm, teams battle for bragging rights and beer tabs. Join us this week for your chance to dominate! (pic)
---
This week:

It's still 85 degrees here in St. Petersburg, Florida, but we're celebrating fall anyway. This month is all about slow-sipping and fancy-pants beers.
What We're Sippin' On: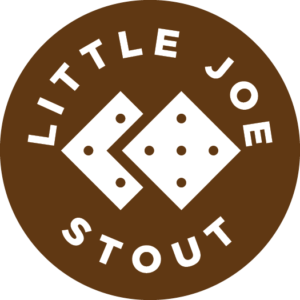 Pair O' Dice Brewing Little Joe Oatmeal Stout Nitro
Oatmeal Stout |Clearwater, FL | 25 IBU | 6.3% ABV
Brewer's Notes:
An American oatmeal stout brewed with copious amounts of dark malts and oatmeal. It pours a deep black color with a thick chocolate head. Dark chocolate and coffee are present in the aroma and carry through the velvety mouthfeel with a slight sweetness of toffee, resulting in a well-balanced and easy-to-drink stout.

Lagunitas Dark
Swan Sour/ Wild Ale | Petaluma, CA |22.6 IBU | 8.5% ABV
Brewer's Notes:
Observers of yestercentury once doubted the existence of the Dark Swan, stating the fair-feathered fowl was the only color of its kind. Explorers eventually upended that theory, shocking the world and shining light on the Dark. This beer might just do the same. It's a sour ale fermented with dark red wine grapes, giving it its uniquely deep and rich purple hue. Then it received the signature Lagunitas treatment with a healthy dose of experimental dry hops. This might just shock your taste buds!

There just really isn't anything else like the Dark Swan… it's a dark purple hybrid ale the takes our house yeast and feeds it some Petite Sirah grapes to munch on. It's smooth, slightly sour, and superbly strange. Give it a taste, if you dare!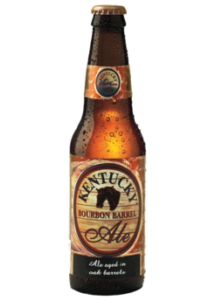 Alltech Kentucky Bourbon Barrel Ale
English Strong Ale | Lexington, KY | 8.19% ABV
Notes from the Brewer:
Award-winning Kentucky Bourbon Barrel Ale® is a unique sipping beer with the distinctive nose of well-crafted bourbon. Our Kentucky Ale® is aged for up to six weeks in freshly decanted bourbon barrels from some of Kentucky's finest distilleries. Subtle yet familiar flavors of vanilla and oak are imparted to this special ale as it rests in the charred barrels. Pleasantly smooth and robust, Kentucky Bourbon Barrel Ale may also be served as an aperitif or after-dinner drink. Launched in 2006, it has grown to become the flagship beer of the premier name in barrel-aged beers: Alltech Lexington Brewing and Distilling Company.
Staff Pick: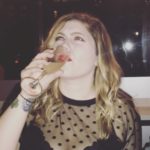 "I fell in love with KBBA about two years ago. As a typical whiskey drinker, I liked the happy balance between craft beer and liquor. With a higher ABV, two glasses will do the trick! Offered year-round, I especially love this brew in the chillier months."- Shannon Kelly, Events & Marketing
Tuesday: C.A.N. Night
Join us for C.A.N. (Craft Appreciation Night) where we say thank you to all the hard working Hospitality and Service Industry employees by offering them 25% off every Tuesday from 9PM – Close.
Wednesday: Trivia
Join us and #justjohn (John Chaplin) from Tampa Bay Dream Team for our weekly trivia extravaganza!
Every Wednesday, teams compete for bar tabs and bragging rights! Be sure to check out the weekly #freebie for an extra shot at winning the trivia title!
Friday: Happy Hour
It's been a long week! Kick back at our Friday Happy Hour and enjoy half-off our craft beer taps and live music!
Saturday: Betty Fox Band w/ Rebekah Pulley
Soul is what it's all about with this passionate quartet. 2015 IBC finalists and 3 times voted Best of the Bay! This is a show you won't want to miss!!
Opening set by Rebekah Pulley Duo at 7pm